Teeth Cleaning & Whitening
Why Teeth Cleaning & Whitening is important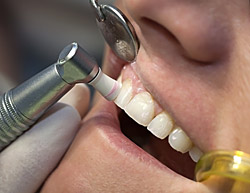 The best way you can keep your teeth and gums in good health is with effective and regular teeth cleaning. Most dentists will recommend professional teeth cleaning & whitening in addition to the regular oral-hygiene routine you follow. Teeth whitening and cleaning are two very different procedures and may or may not be carried out at the same time.
Regularity Counts
Clean Teeth and gums keep your mouth free of bacteria and infections. This will also ensure that your mouth feels fresh at all times and it prevents bad breath. Apart from this, teeth cleaning & whitening gives you that white and bright smile you always wanted. The feeling of having a healthy and happy mouth is invaluable and it is important for you to visit a dentist every 6 months for a professional teeth cleaning session. We at Brummett Family Dental ensure the best teeth cleaning & whitening services.
Professional teeth cleaning is the best option for removing tartar from your teeth. No matter how regularly you brush and floss, it is not possible to clean out the tough tartar that tends to accumulate on teeth. When you come in for any cleaning procedure, it also gives us a chance to carry out a regular dental exam and we make sure that your teeth and gums are in good health.
The Procedure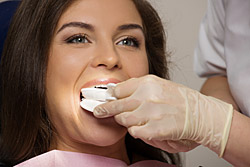 Teeth cleaning & whitening delivers the best results within a short period of time. Enamel, is the 1st layer of the tooth surface, which is semi-translucent. The layer right below the enamel is called dentin. Typically this is yellow in color but it may also be brown, gray or black. This color penetrates through the translucent enamel and is the one that lends your teeth their distinct color. The teeth bleaching or teeth whitener products that can be bought over the counter may provide you with results, but many of them are also very harsh and can result in damaged teeth.
The Very Best Services
When you come in for professional dental services, we use the best medically certified products. Our skilled dentists are well-versed with these procedures and resultantly, you get healthy, clean and bright teeth, without the damage. Regular teeth cleaning and whitening can also lighten the color of darker-hued teeth and it helps in:
Keeping tartar at bay
Gives you bright and white teeth
Gives you healthy gums
Improves your appearance
Looking good and feeling good go hand in hand and a great smile is about clean and healthy teeth. This is one of the biggest benefits of teeth cleaning & whitening. Maintaining oral health also improves your overall health. So, never put off visiting Brummett Family Dental for regular checkups and all our specialized dental services.
We have state-of-the-art technology at our facilities at 3876 South Highway 27, Somerset KY, 42501. Patients from many surrounding areas such as Berea, Danville, and Campbellsville come to us for personalized dental services. Contact us and gift yourself a fantastic smile and boundless confidence.