Root Canals
The Ins and Outs of the Root Canal Procedure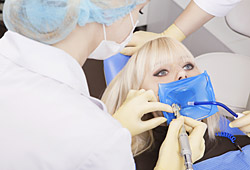 Root Canal is the treatment of the pulp of a tooth that is infected, inflamed or dead. The center of the tooth has a soft substance that is made up of connective tissue, blood vessels and nerves- this is called the pulp. In a root canal treatment, the pulp of the affected tooth is removed. The pulp chamber and the canals of the tooth are then filled-up and sealed, which prevents the entry of bacteria.
Reasons for a Root Canal
A root canal can be carried out by a general dentist or an endodontist and at Brummett Family Dental; you get the best dental services. There are numerous factors that can damage the nerves or the pulp of a tooth. Let's understand what the most common reasons for requiring a root canal can be.
Pain
This is the most common symptom for requiring a root canal. The pain that arises from a tooth that needs this treatment is very specific. If the tooth is alive, it will be oversensitive to hot and cold, and will continue to remain sensitive after the stimulus is moved away from that tooth.
Abscess
If there is an abscess in the tooth, a root canal is a must. If the pulp in the tooth dies, a pus pocket gets formed at the root-end. The pus might also start oozing out from a bump in the gums and there will be a bad taste in the mouth. A root canal treatment is the only way of getting rid of the bacteria and dead tissue in the canals and pulp chamber.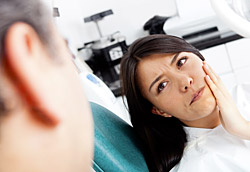 Apart from the factors mentioned above, deep cavities, trauma or fractures in the tooth/teeth will also require root canal treatment. In the past, if any of these situations occurred, the only option was to have the tooth extracted. But now, the root canal option is beneficial as the original tooth can be saved. If the damage to the tooth/teeth is too severe, you might be advised to have them extracted. We can then place dentures in those spots as a replacement for the teeth that had to be removed.
---
Skilled Professionals
We have highly experienced and trained dentists who can action root canals as required. This procedure can be performed either in a single or in multiple visits. Before we start with the procedure, you will be informed about the number of appointments that will be required for this treatment. In some cases, you might be prescribed antibiotics before the procedure. A local anesthetic will be administered and it wears out a few hours post the treatment.
We ensure the highest levels of comfort and our staff is friendly and helpful. Contact Brummett Family Dental for root canal procedures and other dental treatment requirements. Even patients from the surrounding areas like Berea, Danville, and Campbellsville trust us for the excellent services we offer at 3876 South Highway 27, Somerset KY, 42501.