Dental Implants
Demystifying Dental Implants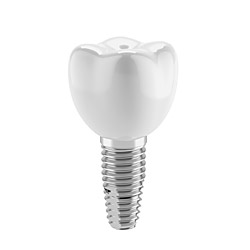 A bright and attractive smile is something that can never be underrated. Right from the time we are little, we are told that teeth are precious and irreplaceable and that it is important to maintain oral hygiene so that they last a lifetime. Though the importance of good oral health cannot be refuted, there have been immense advances in the field of dentistry. If you happen to lose a tooth due to decay or damage, it is possible to replace it with a dental implant.
Non-Traditional Treatment
Teeth implants are commonplace dental treatment today and they are very different from the traditional dentures that older people used, till a decade ago. All natural teeth have roots that hold them firmly in place. A dental implant is essentially a metallic root that is embedded in the jaw bone by an implant specialist. Once the implant is in place, it is allowed to merge well with the bone for a specified period of time. Once the healing has taken place as required, a prosthetic tooth is fitted over it. These implants are made of titanium and generally, the human body accepts them well.
The Implant Procedure
Brummett Family Dental handles general dentistry, cosmetic dentistry as well as implant procedures. Our expert dentists will analyze the condition of the bone that supports the affected tooth. If it is determined that the bone base is large enough to hold the dental implant, our dentists will then suggest that you opt for it. The implant procedure will be carried out over several visits and you will be advised about the same before the procedure is undertaken.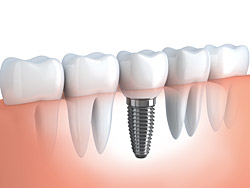 The specialist will also ensure that your body is able to accept these implants. First, the gum tissue will be cut open, the implant will be positioned in the bone and the tissue will then be re-sewn over the titanium root. It will take at least 2 months for it to set well and the prosthetic tooth is then fitted over it. This is an invasive procedure and our specialists are trained in the dental implantology field and can handle it expertly.
The Cost Factor
The cost of dental implants may be a concern for some people as they are more expensive than regular dentures or bridges. But it should be understood that these are almost permanent replacements and can last for upto 15 years if you take good care of them. The restored teeth will also have to be serviced as recommended, at regular intervals. You will be advised about the cost of the procedure as well as the recurring costs. This will help you make your decision about opting for implants.
Those who have too many damaged teeth or have lost all their teeth due to age can opt for full mouth dental implants. The procedure that is followed is almost the same. Brummett Family Dental offers these services at our high-tech facilities at 3876 South Highway 27, Somerset KY, 42501. We have patients from various surrounding areas like Berea, Danville, and Campbellsville, who visit us for specialized dental services.