Pediatric Dentistry
The Specialized Field of Pediatric Dentistry
Pediatric Dentistry is a specialized branch of dentistry that is for children and adolescents. A pediatric dentist provides primary as well as comprehensive preventive oral health care for kid's teeth right through adolescence. This includes children who have special healthcare needs. Pediatric dental care includes various disciplines, procedures, techniques and skills that share a common basis with many other specialties. They are adapted and modified to suit the special needs of children.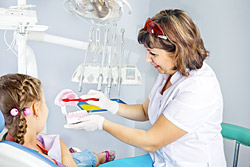 Special Needs
A pediatric dentist is far more than just a dentist. He or she is specialized in child psychology, growth and development. Children tend to have some fears and concerns about visiting a dentist's office. The psychology learning that pediatric dentists have helps them in dealing with these fears. Every one of our pediatric dentistry specialists at Brummett Family Dental is trained to handle children and their specific dental problems in a very sensitive manner.
---
A Special Approach
We are able to provide habit counseling that helps in elimination of pacifier-use as well as thumb-sucking habits that are very common with small children. The mental make-up of children is very different from that of adults and that is what a pediatric dentistry pays special attention to. We focus on educating children and their parents about the reasons for tooth decay, the steps that can be taken to prevent them and we focus on:
Preventing Tooth Decay
The 4 things that are required for cavities to form are teeth, bacteria, sugars and carbohydrates and time. We share how you can make teeth strong and prevent bacteria from forming harmful colonies in your mouth. We also teach children how they can maintain healthy eating habits and about the role that time plays in tooth decay.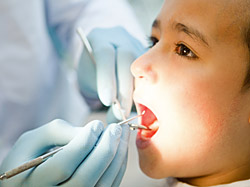 Primary teeth
It is a common misunderstanding that primary teeth do not need as much care as permanent teeth do. It is critical that primary teeth be well-looked after until they are lost in a natural manner. They serve functions such as:
Permit your child to chew food properly and help in maintaining good nutrition
Are very closely connected to speech development
Help permanent teeth as they save space for them
A healthy smile gives children confidence
---
A Lifetime of Oral Health
Pediatric Dentistry lays a lot of stress on starting out early on regular dental care and on teaching children the importance of maintaining healthy lifetime habits. We perform reconstructive work as and when required, for the benefit of patients. We firmly believe that preventive dentistry is the ideal way to keep a child's mouth and teeth in a good condition.
---
Full-Scope Services
Brummett Family Dental offices at 3876 South Highway 27, Somerset KY, 42501 offer full-scope pediatric dentistry services. We establish firm ground-work for your children that lasts them a lifetime. We focus on positive experiences and teach children the importance of developing best habits and healthy teeth and gums. People from surrounding areas including Berea, Danville, and Campbellsville bring their children here as they know that their child's oral health is in good hands.