Invisalign
Add Invisalign power to your teeth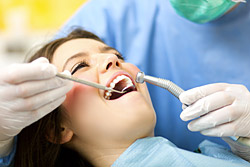 Everyone wishes that have a set of attractive teeth that are well-aligned. Not everyone is born with perfectly-aligned teeth, but today, that does not pose to be a major issue for dentists. Conventionally, braces are used in the straightening and alignment of teeth. But steel dental braces can look ungainly and they are uncomfortable too.
The Invisible Wonder
It takes months for teeth to get satisfactorily aligned. If you have steel braces in your mouth, it means that you have to deal with the discomfiture for extended periods of time. Now, you can leave all these worries behind and opt for Invisalign braces at Brummett Family Dental. Invisalign is an innovative and revolutionary system for straightening teeth and is manufactured by Align Technology.
This treatment makes use of clear-plastic aligners that are used to cover the teeth. These aligners slide smoothly over the teeth and are not very easily visible to others. The Invisalign braces are replaced every few weeks. With every successive change, these braces improve the alignment of the teeth.
---
The Treatment
This branded product is a shade more expensive than conventional metal braces but there is no discomfort at all and they are very effective too. However, if the misalignment is severe, metal braces will have to be used. Our expert dentists will advice you about the benefits of Invisalign braces and will also check whether you are a suitable candidate for them. They are effective in the treatment of most minor orthodontic conditions.
The dentist will clean all your teeth thoroughly before the treatment is started. They are customized for your teeth, removable and an ideal alternative to standard braces. They will constantly be in your mouth and you will have to be very particular about oral hygiene. You might feel some discomfort initially, but once you get conditioned to wearing them, you can hardly feel them in your mouth.
---
Important Points
You will be required to remove the braces and clean them on a regular basis to avoid odor and discoloration and they will have to be maintained well. It is crucial that you continue with the entire course of the treatment. Discontinuation will only take the teeth back to their misaligned position and it is important to wear them as recommended. These revolutionary Invisalign braces provide you with quick and visible teeth-alignment results.
This is a patented treatment and it is important that only specialized and well-trained dental professionals handle it.
---
Personalized Treatment
With our years of experience in dental care, Brummett Family Dental is able to offer precise and personalized treatment. We also ensure that you are advised about the basics of the Invisalign treatment and what care has to be taken in use and maintenance.
We attach a great deal of importance to right advice and treatment and offer preventive treatment and specialized services like dental implants, cosmetic dentistry and Invisalign braces. We have patients who come in for regular check-ups at 3876 South Highway 27, Somerset KY, 42501 from areas such as Berea, Danville, and Campbellsville.