Dentures & Partials
Maintaining a dazzling and healthy smile is about having a complete set of teeth. If there are any missing teeth in your mouth, the rest of the teeth can drift and change position. These teeth have the potential to damage the tissues in your mouth and it might also be very difficult to brush and floss teeth that are crooked. In turn, this leads to bacteria buildup in the mouth and it is difficult to maintain oral hygiene. Thus, you run the risk of periodontal disease and tooth decay and you only end up losing more teeth.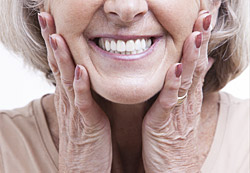 ---
About Dentures
Dentures & partials can be used to fill in the gaps that have been created by missing teeth. Typically, it is believed that dentures are always a complete set of teeth, (either upper/lower). However, dentures need not always mean a full set of teeth, they can also be partial. Partial dentures can be used very effectively to replace more than one tooth in a person who still has a few healthy teeth left.
Removable partial dentures fill the space that has been created by any missing teeth, fill out your smile and help you to chew food properly. There are different kinds of removable partial dentures (these should not be confused with the fixed partial or a bridge). Brummett Family Dental can help you with dentures & partials of all types and we use the most advanced methods and products in their making. The most common removable dentures are:
Conventional Partial Dentures
These have metal clasps of different shapes that fit on the surrounding teeth. In some cases, these neighboring teeth might need to be shaped to provide a space for the clasps.
Precision Attachment Partial Denture
This is different from a conventional denture in that it fits into the crown that is placed on your tooth and there are no clasps.
Valplast Partial Denture
This is a flexible, bio-compatible, thermo-plastic nylon denture that has unique physical & aesthetic properties. Since it is translucent, the natural color of the tissue shows through and provides a natural look to your smile.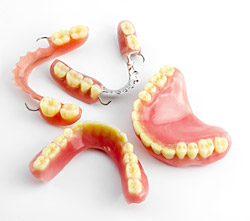 ---
The Best Dental Service
We have highly-experienced dentists who are able to provide you with the type of dentures & partials that are best suited to the condition of your teeth. We will conduct a thorough analysis of your teeth and discuss all the possible options, and will also keep your specific budget and insurance coverage in view. Once the denture or partial has been fitted, we will give you instructions about how you can care for them. Regular cleaning and care is very important with dentures & partials.
The denture has to be brushed every day and should be free of food deposits or plaque. Brushing it also ensures that it does not get stained. You may be asked to come in for servicing them at regular intervals and we will check the dentures thoroughly at our offices at 3876 South Highway 27, Somerset KY, 42501. Brummett Family Dental treats patients from the surrounding areas including Berea, Danville, and Campbellsville.