General Dentistry
Understanding What General Dentistry is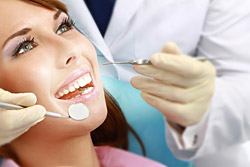 General Dentistry stresses on preventive oral care. The basic concept behind this being that if you take good care of your teeth today, fewer problems will surface later. A general dentist examines your teeth and the overall health of your mouth. Regardless of how often or well you brush, it is not possible to rid your mouth of food particles and bacteria completely. If left untreated, the residue that stays behind on your teeth eventually turns into plaque and can lead to cavities and gum disease.
Our Services
A trip to Brummett Family Dental, two times a year can help in preventing these as well as various other dental problems. Our expert dentists work very closely with you and customize a cleaning plan that takes your individual needs into account. We offer services such as:
---
Comprehensive Exams
This is a basic service in general dentistry. The American Dental Association's® recommends that teeth should be examined every 3-6 months. In doing this as recommended, we are able to identify and effectively treat all the potential trouble areas before they metamorphose into more serious problems.
Professional Cleanings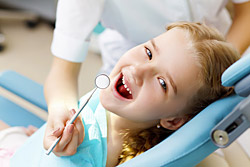 It is important to get professional dental cleaning done once every 6 months. This improves your appearance and breath and overall oral health which is what general dentistry focuses on. Plaque removal should be actioned before it toughens into tartar that leads to gum infection.
Fillings
In cases where tooth decay has set in and a cavity has formed in the tooth, we offer the latest tooth-colored resin fillings. These fillings make you look and feel good and they bond very strongly with the teeth. Composite fillings can also be used in general dentistry treatments.
Fluoride Treatments
Scheduling fluoride treatments regularly can play a very critical role in prevention of cavities and we tell you how you can maintain oral health and which dental hygiene products are best for your teeth and gums.
Sealants
Since it is more difficult to reach back teeth, it is also more difficult to clean them and plaque buildup can damage them faster. Sealant applications act like a shield and prevent food from getting wedged in the small crevices in the teeth. These are generally recommended for young children and teenagers but are ideal for adults as well.
Root Canals
In severe cases, plaque leads to much more than tooth decay. It infiltrates the gums and damages the pulp in the tooth. In cases such as these, a root canal may be required to save that tooth.
Extractions
If a tooth has been damaged beyond repair; it might have to be extracted. We offer tooth extraction services and provide you detailed instructions about how the healing process can be speeded-up.
---
Expert Dental Care
We believe that additional dental treatments can be prevented by maintaining good oral hygiene. Come for regular dental checkups to Brummett Family Dental and get your oral health back on track. Patients come to us from the surrounding areas including Berea, Danville, and Campbellsville. Schedule an appointment today for any of our general dentistry services at our facilities at 3876 South Highway 27, Somerset KY, 42501.